No Fear Program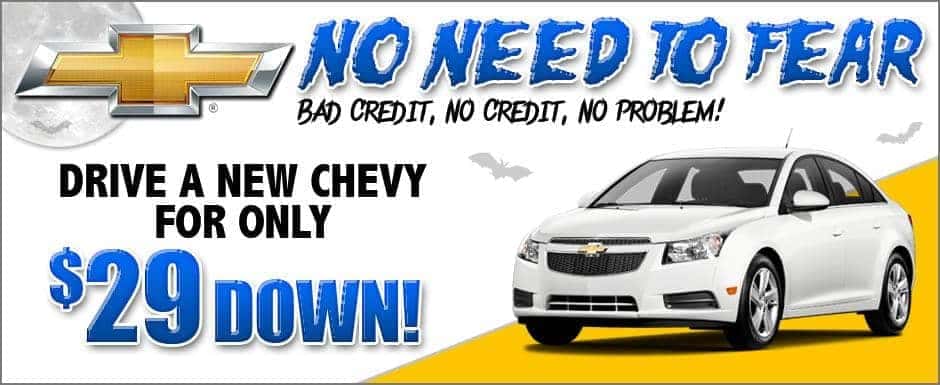 CHEVY NO FEAR PROGRAM! DRIVE A CHEVY FOR JUST $29 DOWN IN BOSTON, MA!
Have no fear, Boston, we will work to get you into a new Chevy, guaranteed!
We understand that tough times can fall upon good people. We also understand that a new car or truck is critical to your economic health. The revolutionary partnership between GM Financial and New England Chevy Dealers has made it easier than ever to get into a new Chevy car, truck or SUV with just $29 down.
It only takes 30 seconds. Just fill out the form below to get started.
Take advantage of the lending power of the No Fear Chevy Program. It will all but guarantee your approval despite your past credit history.
WHAT IS NO FEAR CHEVY?
No fear Chevy is an extension of the innovative, first of its kind, You Can Drive A Chevy Program. The program was recently introduced in New England and as been an amazing success. Through the No Fear Chevy Program, it is estimated that hundreds of new drivers with credit challenges, divorces, bankruptcies, short sales and other struggles will be able to afford a new Chevy car or Chevy truck.
HOW DOES IT WORK?
Through the combined lending power of GM Financial and New England Chevrolet Dealers, we are able to provide more credit to more people, it's that simple.
Pride Chevrolet, Inc. is one of the premier partners for the No Fear Chevy Program. Because of our longevity, we have developed significant relationships with local banks, credit unions, and financial institutions and our vast lending networks that make it easier to get you approved.
It is simple, just fill out the form above and we will all but guarantee you will be driving off in a New Chevy this month & No Fear Chevy!